Welcome to Whiteheads web site!
news:
02.10.2017 - we have a very nice and show promising 3,5 months old boy available from our latest litter. If you are interested please e-mail or phone us. Link to pedigree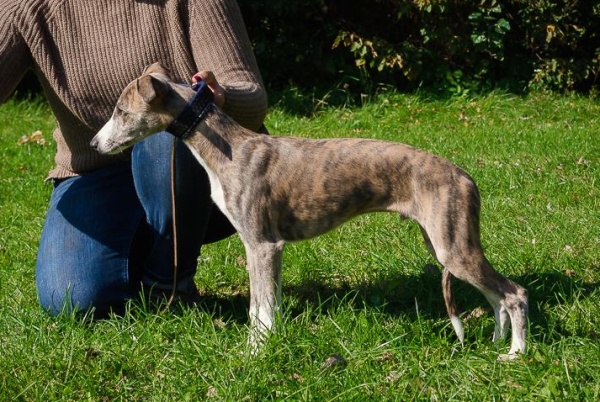 Whiteheads ROBIN WILLIAMS - 3,5 months
27.07.2017: Please visit our "Puppies" site to see the latest photos of our 6 weeks old litter!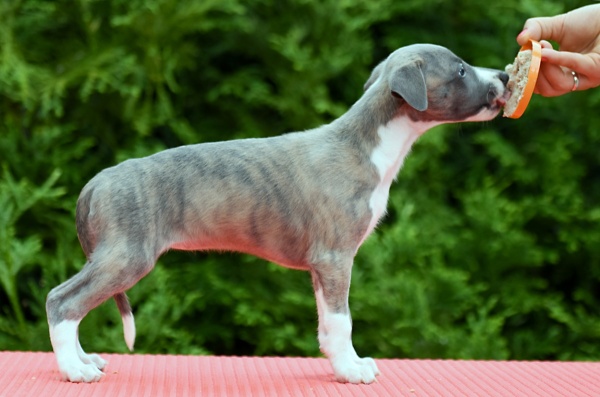 Whiteheads RITA HAYWORTH - at 6 weeks
23.07.2017 - The most importans show in Poland for all sighthound owners and lovers - PL Club Sighthound Show. This year organized in Konopiska near Czestochowa. All of our dogs went very fine! Our team came back with 3 Club Winners (for 4 Club Winner tittles assigned for whippets 2 went to whippets bred by us) plus BIS4 Junior and BIS3 breeding group!

- whippet - Whiteheads PUMBA (ow. Oliwia Chlebowska) - Junior Winner, Junior Club Winner 2017
- whippet - Whiteheads O'LALA (ow. Joanna Ścibor) - Best Adult Bitch, Club Winner 2017
- saluki - DABKA'S SURMA (our Swedish import) -
Junior Winner, Junior Club Winner 2017, BIS4 Junior
- Whiteheads kennel - BIS3 breeding group!

Big thanks to Kinga Iwaniuk, who handled all our dogs!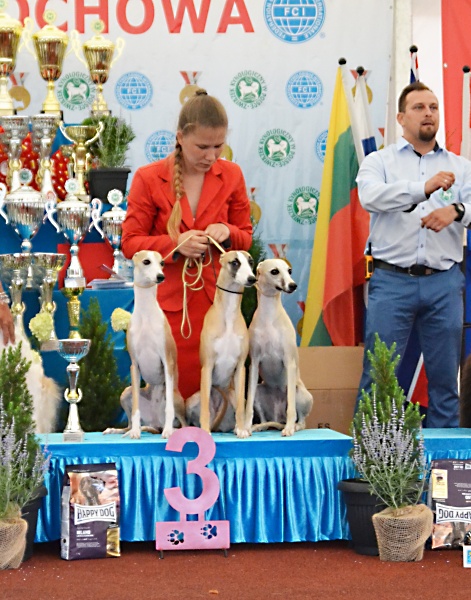 Whiteheads - BIS3 breeding group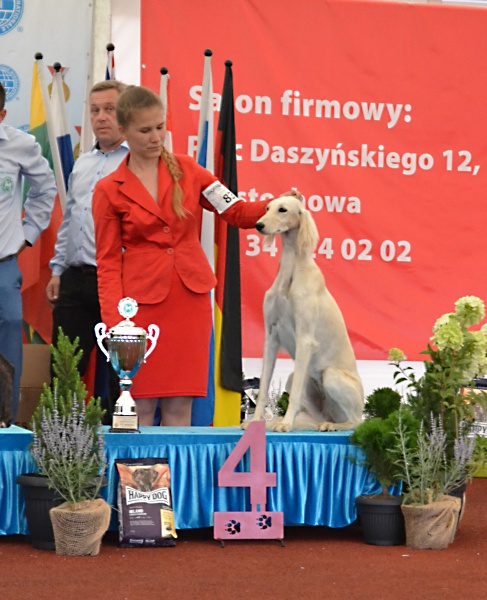 Dabka's Surma - BIS4 Junior
06.06.2017 - in a few days we are expecting a very special litter...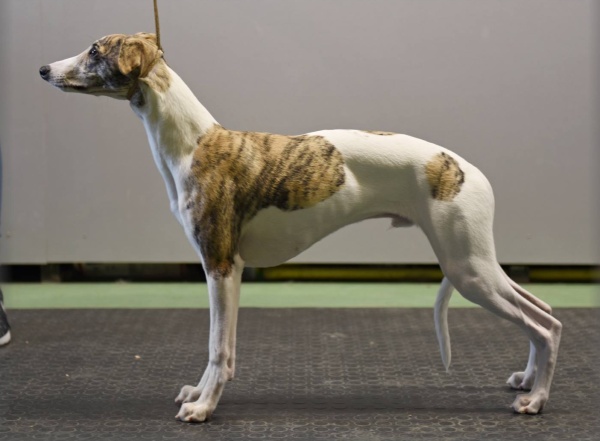 Eliot - Whiteheads PUMBA (almost 6 months old at the photo) -at his first show in Bedzin VP1 in minor puppy class. A wonderful boy under care of Olivia and the whole of Chlebowski family.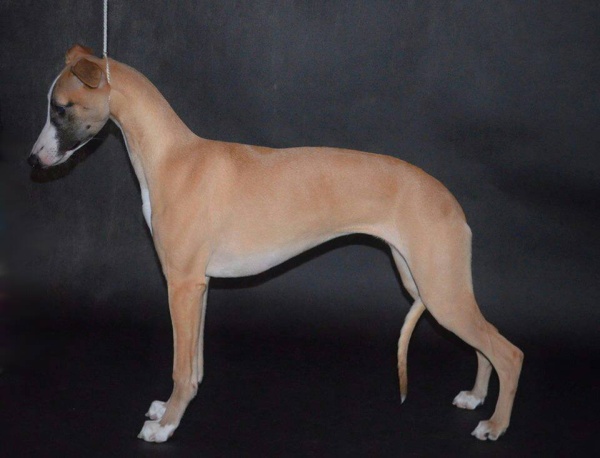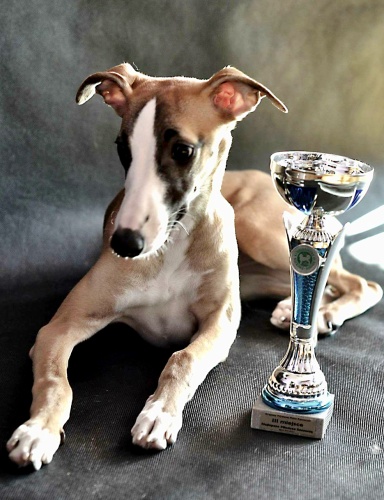 Bajka - Whiteheads POWERPUFF - a wonderful girl, for shows led by Kinga Iwaniuk from
Onychinus kennel, at her first 2 shows in minor puppy class she gained 2 x BOB minor puppy and BIS3minor puppy. We would like to thank a lot to Kinga for her big heart for Bajka, for her enormous engagement and perfect show work with Bajka!

In 2016 new 2 girls joined our team (for now they have no separate sites at the "our dogs" bookmark, but it will change soon):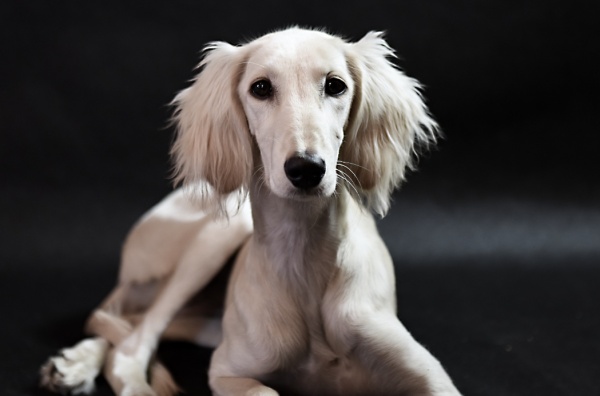 Surma - Dabka's Surma - finaly a fulfilled dream about having a saluki, I can't have words to thank Liz-Marie and Anders (
Dabkas
kennel) for entrusting us with this so special girl! This is a complete new chapter in our breeding, but we are enjoying this chapter so much - having this girl, looking at her and be with her is an exceptional pleasure....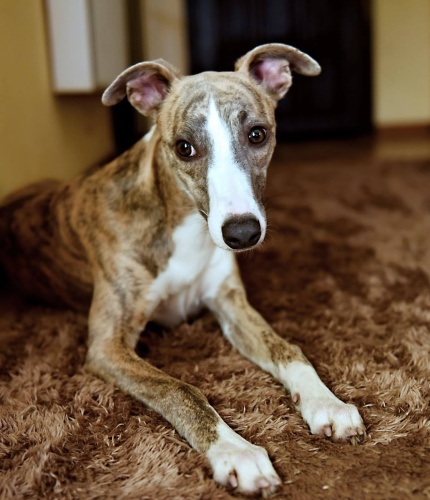 DYANI AT WHITEHEADS Idealist - our Dyani - a little clown, a true jester, charming with her lovely body built and making us laugh every day by her lovely funny temper, our new breeding hope -thank you so much Monika and Tomasz Sepołowicz (Idealist kennel) for this little trasure.