19.06.2007 - we added new photos of Kuba, Gucio and Sonia on the move


16.06.2007 - on CACIB show in Szczecin (judge - Espen Engh from Norway) our dogs were:
Whiteheads ALL ABOUT ME - "Kuba" - very promising, BOS, BOB puppy
Whiteheads ALL THE GOOD TIME - "Gucio" - very promising, second place
Whiteheads ALL THAT MAGIC - "Sonia" - very promising, BOS puppy
Telltale's AMORA - "Barbie" - exc1, CAC, res CACIB


13.06.2007 - we added a new photo of Barbie


10.06.2007 - 2 of whippet puppies from our litter had their opening at CAC show in Lublin:

Whiteheads ALL ABOUT ME - "Kuba" - very promising, BOS puppy
Whiteheats ALL OF MY HEART
- "Viki"- very promising, BOS puppy, BOB puppy
We also showed one of our adult whippets:
CHARMING CECILIA Born To Love
- "Ruda" - exc2
and our greyhound:
Telltale's AMORA
- "Barbie" - exc1, CAC, BOS, BOB, BOG3 (she finished PL championship)
Special thanks to the group judge Ms. Bogusława Szydłowicz-Polańczyk for appreciating our Barbie at group judging!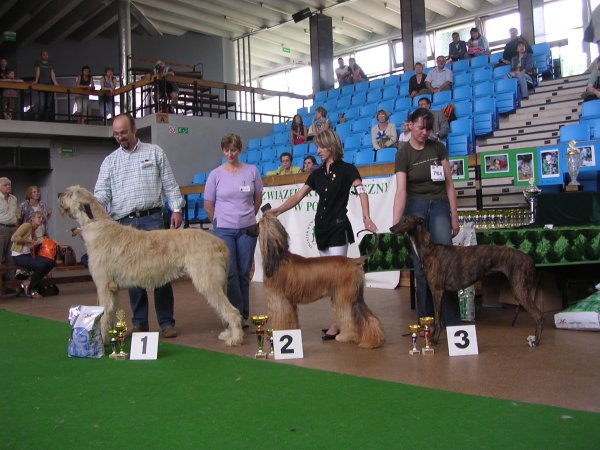 photo: Wiatry pustyni


04.06.2007 Remember! Your whippet just can't get on your head... Unless it is Alutka ;):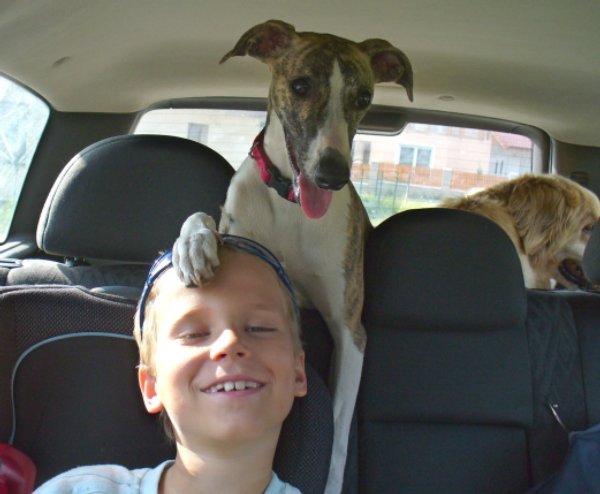 02.06.2007 - there are beautiful whippet puppies at kenell Jesterland!


30.05.2007 - lovely Alutka and her great family (photos: Axabell):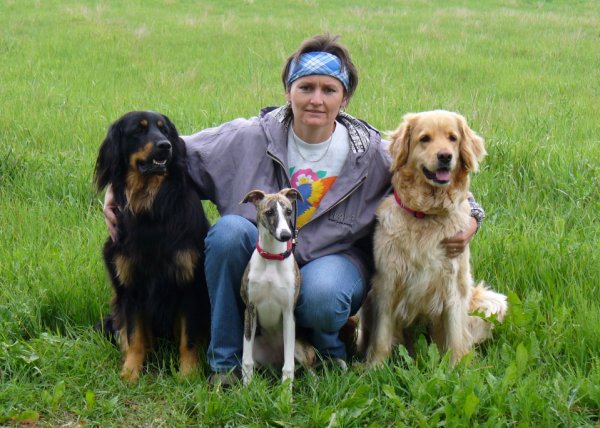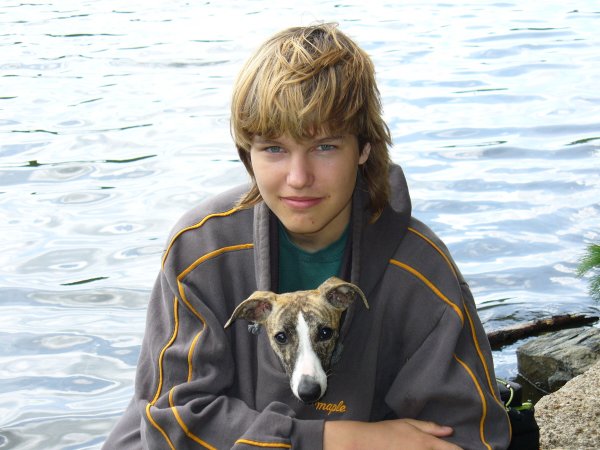 22.05.2007 - there are new photos of Kuba and Sonia
And we just have to put the photo of Zuzia as a grasshopper: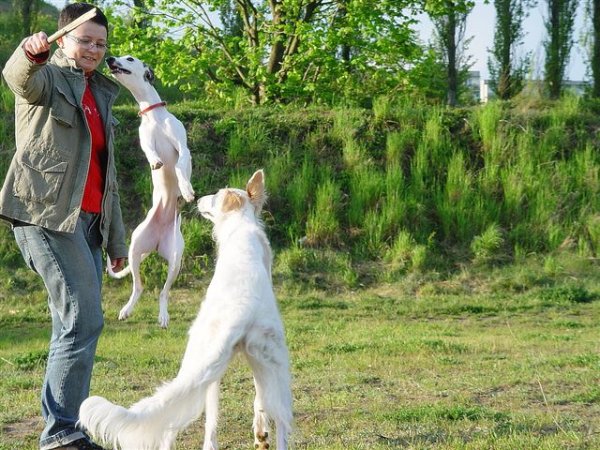 19.05.2007 - we added a new photo of Kacper at 5,5 months: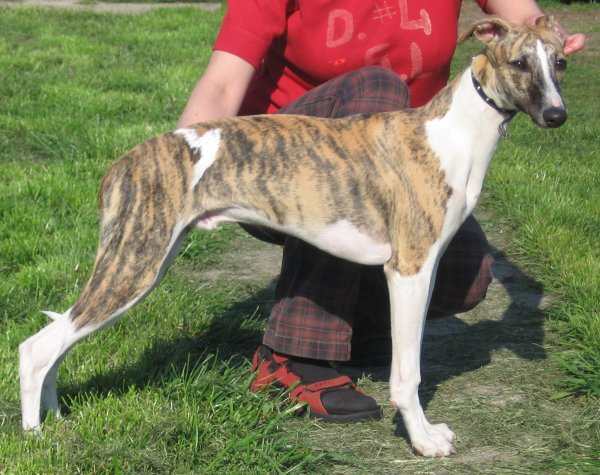 13.05.2007 - we got new photos of Viki who is learning to stack:
05.05.2007 - we showed Maggie and Barbie at CACIB show in Lodz

Maggie - Bokamaro MAGIC TOUCH got CAC, BOS and CACIB. She finished her PL Championship.
Barbie - Telltale's AMORA got CAC and res CACIB - big thanks to our friend Monika for showing our girl!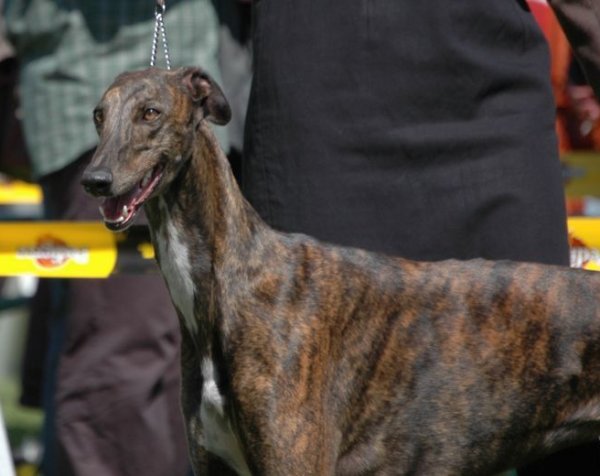 photos: Carragan

12.04.2007 - our beloved Kacper went to his new loving home, photos soon! We also got some latest photos of Alutka from Czech, on below one she is presenting a howavart collar from the spring collection. Well, maybe the size is not the right one for her, but just look at the model... (more about Alutka - www.axabell.cz)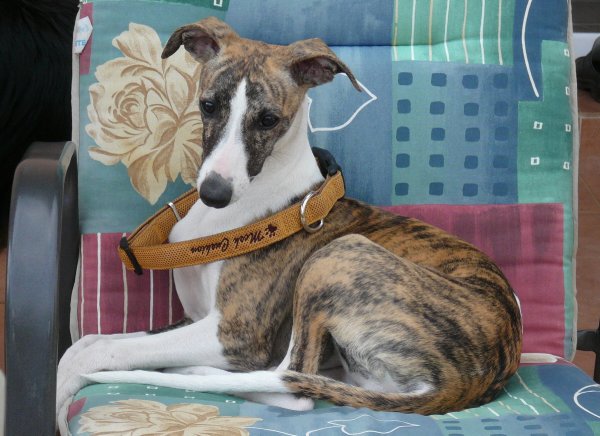 19.03.2007 - We are pround to inform that Sol Y Sombra Jour de Soleil, the sire of our 'A' litter became top winning whippet male (WCD) for 2006 in Germany!


11.03.2007 - We added new 'posing' photos of Gucio, Kacper, Kuba and Sonia.


26.02.2007 - We got Zuzia's photos from her new home. Isn't she a sweet girl?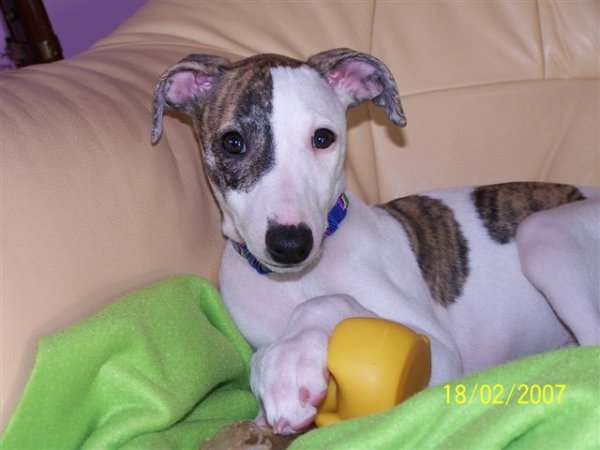 17.02.2007 - Today Ola went to her new home in Torun. Because she will live with a 5 years old girl named Ola her new name will be Asti. We are waiting for Asti's photos!


15.02.2007 - Next bird is flying away from its nest... Zuzia went with her new owner. She will live on the seaside. Have great time together on the beach!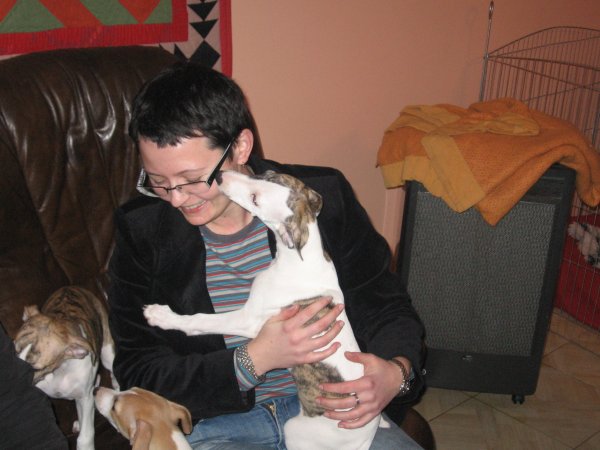 14.02.2007 - Next good-bye... Sweet Viki and Krzys, have a good life together: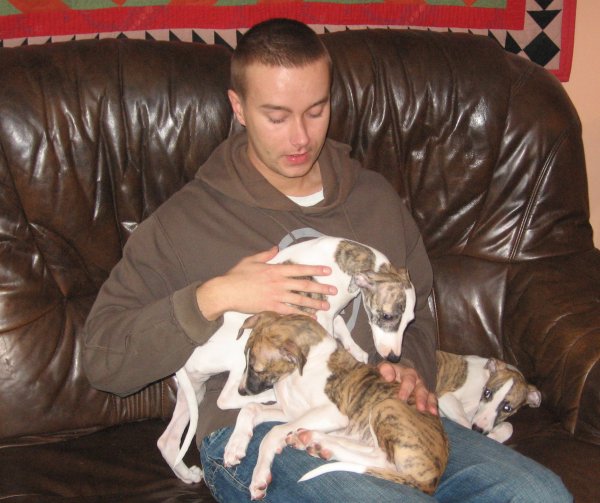 And here is Viki at her new home with her new friend: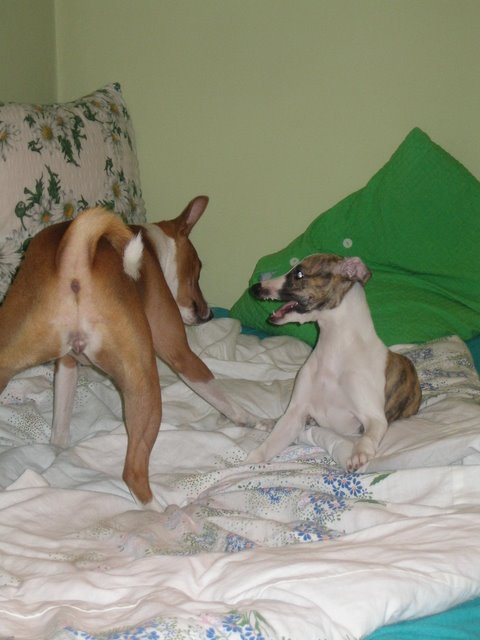 12.02.2007 - New owners took Alutka today. Here is a happy young man who will live with her: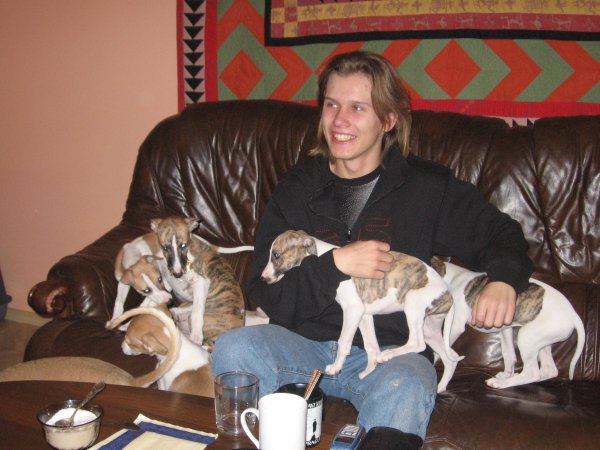 Here is Alutka in her new home (http://www.axabell.cz/):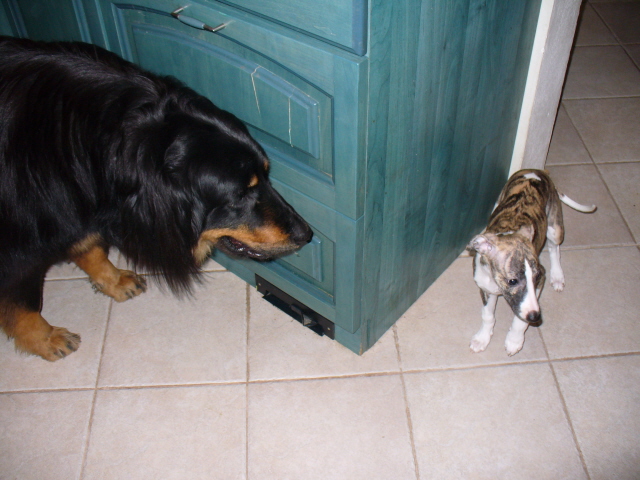 Gucio also went with his happy new mum to new home (6 weeks on photo):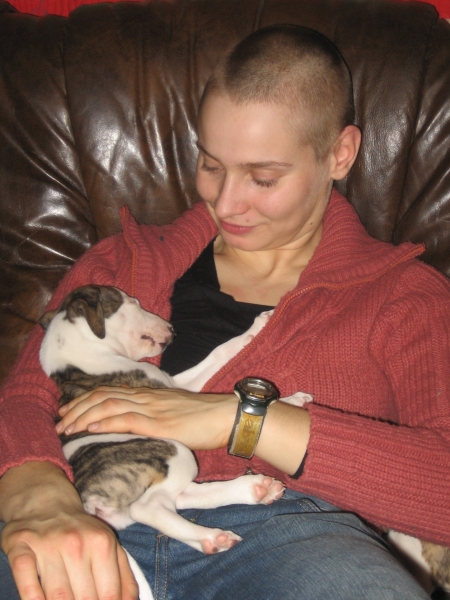 We miss the puppies, but our sorrow is their new owners' joy. Have great life together!!

11.02.2007 - Today our Krecik went to his new home. We hope both him and his new family will enjoy their new life! All the best!
And this way our boy welcomed the youngest member of his new family: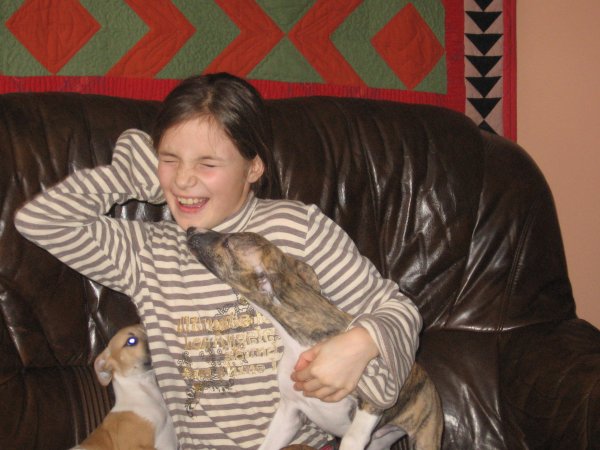 18.01.2007 - Today puppies are 6 weeks old. Here you will find first pictures of all pups in 'stacking' positions at 6 weeks.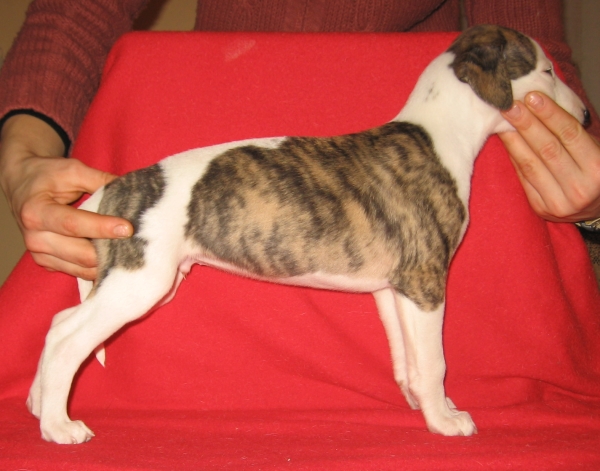 2.01.2007 - new puppies photos in Puppies section.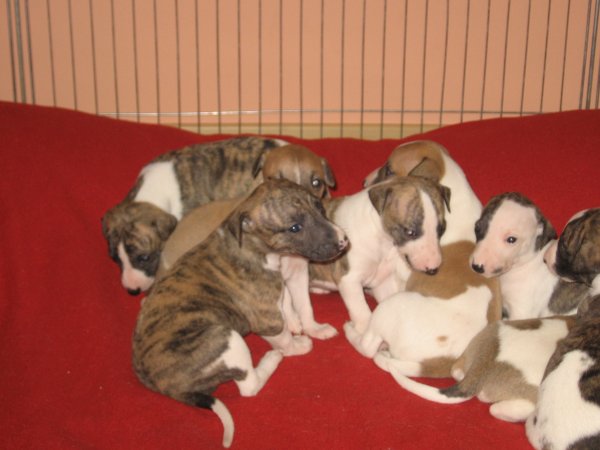 Whippet puppies are born! We have 5 girls and 4 boys.


More in
Puppies
section. Check for photos!