We are only beginners as breeders but we know sighthounds have already stolen our life.
By "beginners" in whippet breeding we mean our experience of breeding within last 10 years, we have whippets for 13 years, but we still consider our small whippet kennel as the one learning, as the one which desires the certain type of the whippet and observes the tendencies of the beeding throught the Europe (whether we like it or not) and in the world.
In our breeding plan we want to focus on "
multigenerational" breeding plan - this model of breeding lets us to focus to keep on on the best qualities we want to achieve and to expose the best breed features of the breed we want to focus - by now we can be proud of having whippets with our kennel prefix of 4 generations ahead with wonderful pedigrees...
All our life we had dogs, different dogs, from mixed through spaniels to a dashound.
Our first sighthound was a whippet Jossie that we got in 2003 - Bokamaro Josselin, this bitch stole our hearts with her wonderful temper.
Before we bought our first whippet we found out a lot about the breed, but we have never expected that a whippet is even more we wanted it to be. Of course it doesn't mean that this breed is suitable for everybody, but from the very beginning we saw in whippet only qualities and advantages.
Very soon we got another whippet to acompany Jossie - Maggie - Bokamaro MAGIC TOUCH which turned out a dog with a little bit different temper than the first one, but not less charming... Besides, this is a bitch that has all these qualities that are characteristic for an elegant, modern whippet - beautiful head, long neck, excelent topline and stunning movements. Maggie became the foundation bitch for our kennel - most of our puppies have Maggie in pedigrees.
Our third girl was Ruda - CHARMING CECILIA Born to Love. This bitch has noble English lines in her pedigree that we used in our breeding.
After we moved to a country to our house we could finaly fulfill our dream about having a greyhound... Our Barbie is in type we have loved most in greyhound. She has also charming temper. Blondie was another greyhound to join our family.
That's a bit of history - Jossie now lives over a rainbow bridge :-(, in a meantime a few other whippets joined our family and we had some litters. Now we enjoy peaceful life with our dogs in the country near Warsaw.
In 2012 our beautiful import from Sweden - Rhetsgis Shirley Bassey went Junior World Winner!
All our dogs live with us in our house and are family members. We are not and will never be a kennel with kennel boxes - our dogs sleep on couches as we think this is the way the they should be treated.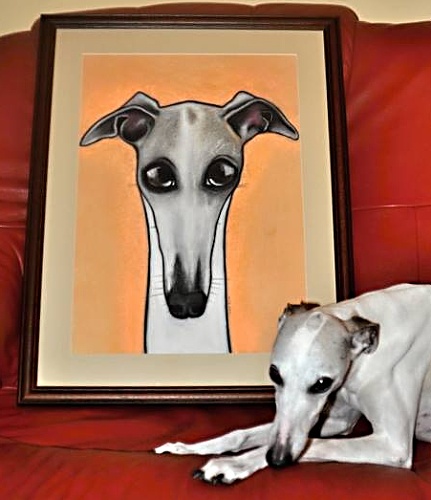 Maggie (Bokamaro MAGIC TOUCH), our foundation bitch almost 11 years old with her portrait by
Mijart design
(2014)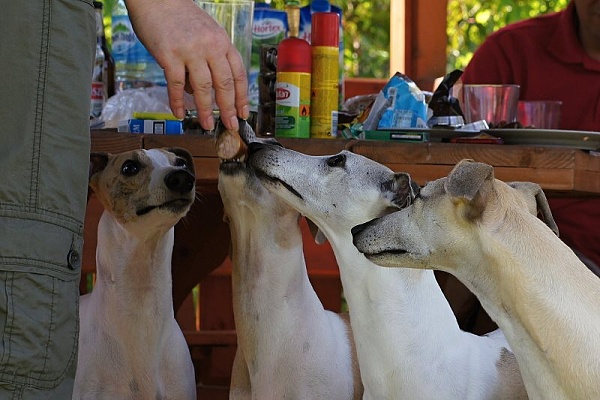 Our whippets during family barbecue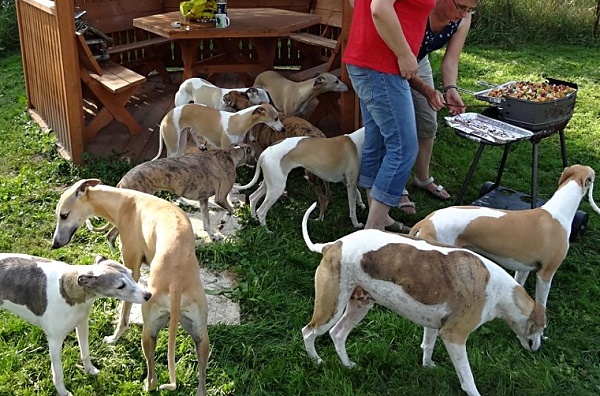 barbecue again (with other whiteheads whippets)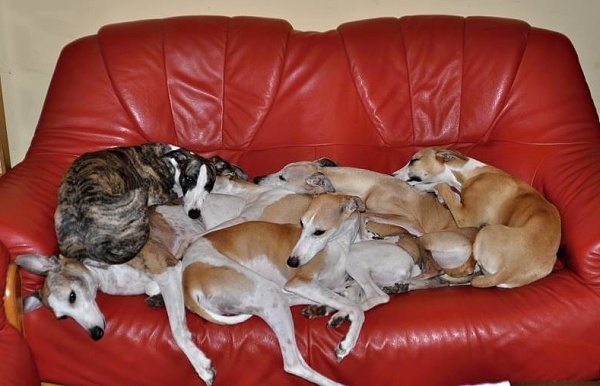 resting on a sofa at home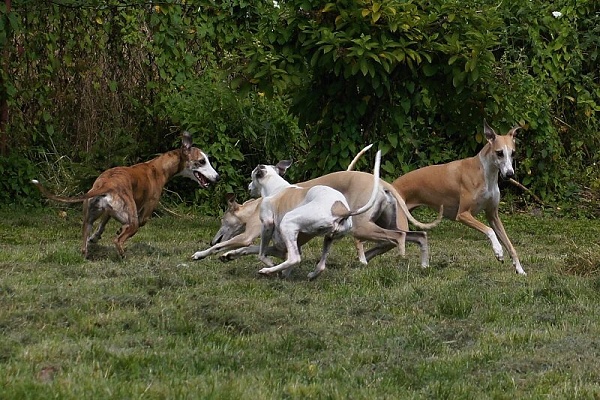 let's play!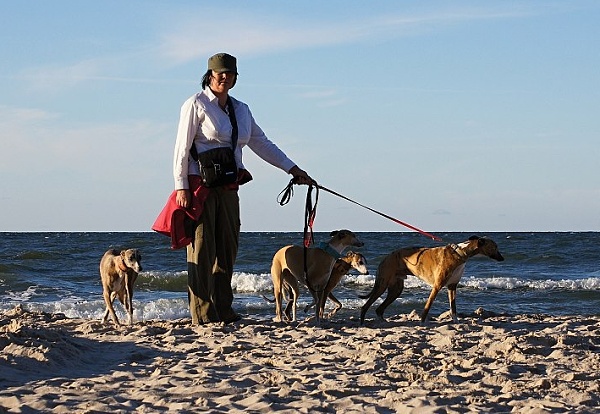 late summer at the seaside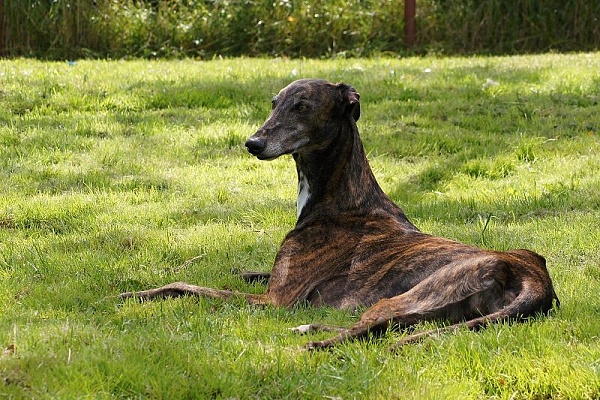 Barbie (8 years old)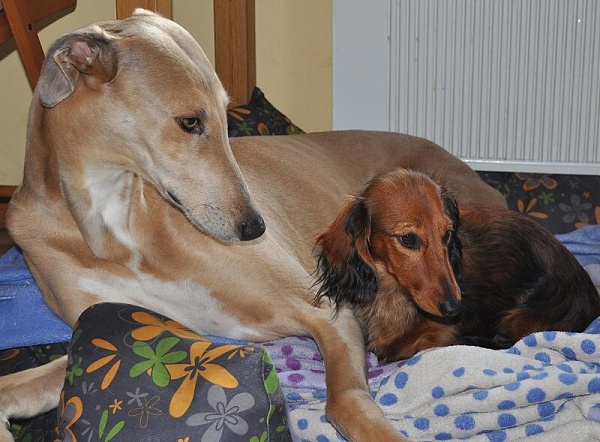 Blondie (6 years old) and our Lakota (miniature long haired dashound)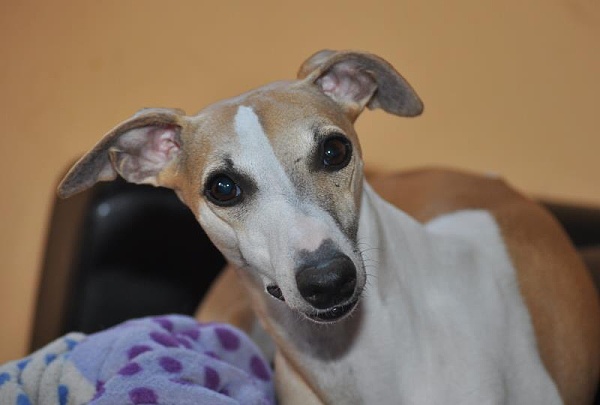 Our beloved Sonia (Whiteheads ALL THAT MAGIC) - first generation after Maggie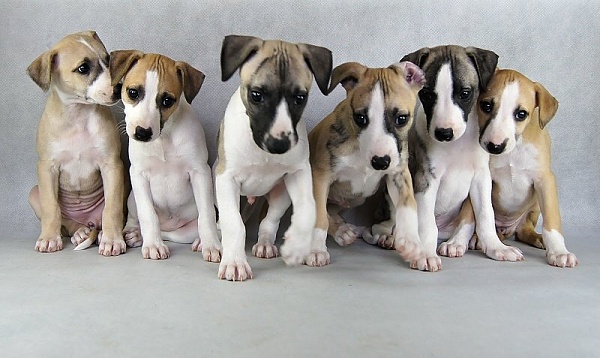 Our puppies from "J" litter (Sonia's puppies) - 2013